A holiday light show celebrates the Lafitte Greenway's new plaza and its 5-year anniversary
https://www.nola.com/entertainment_life/article_c1316914-3658-11eb-a796-e76a3a7f4703.html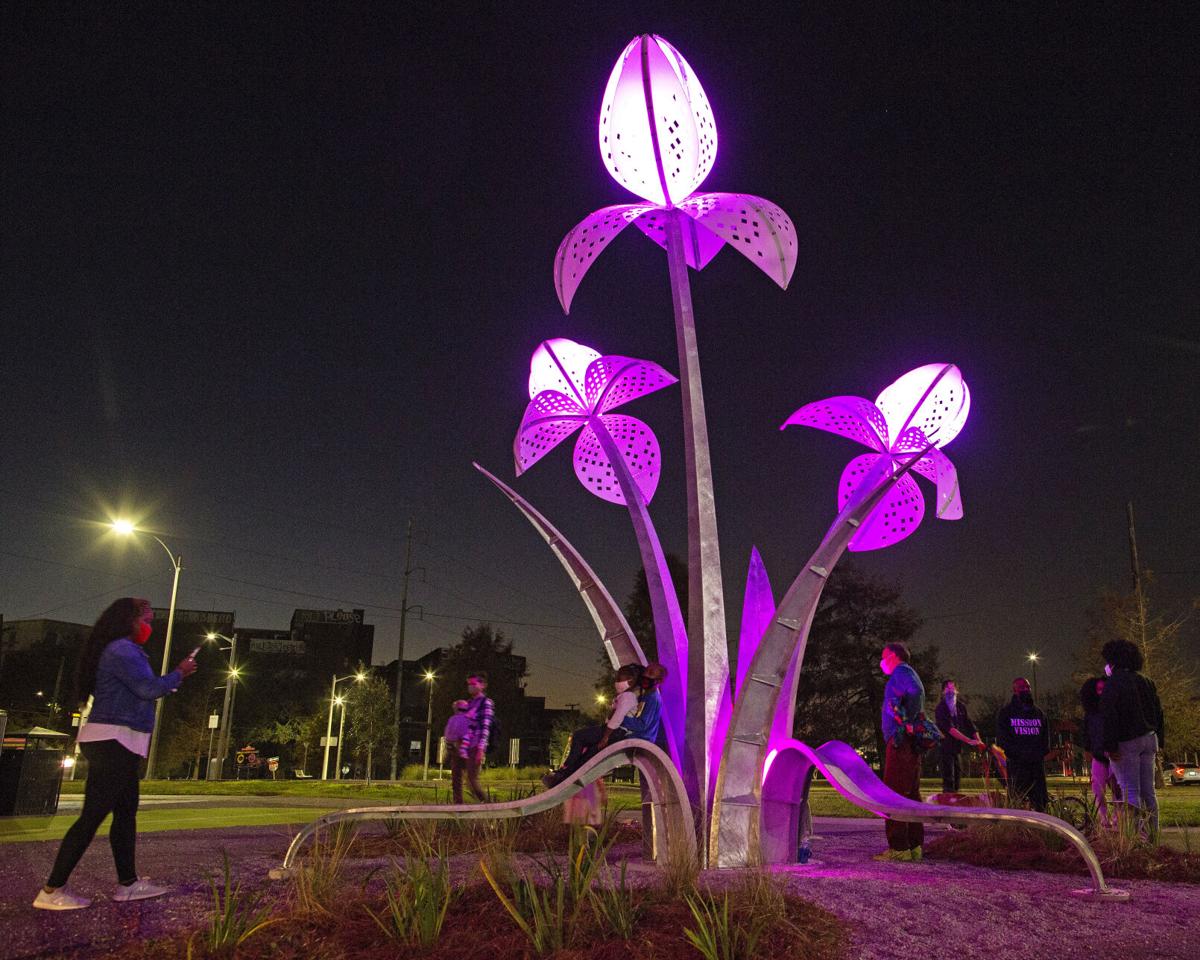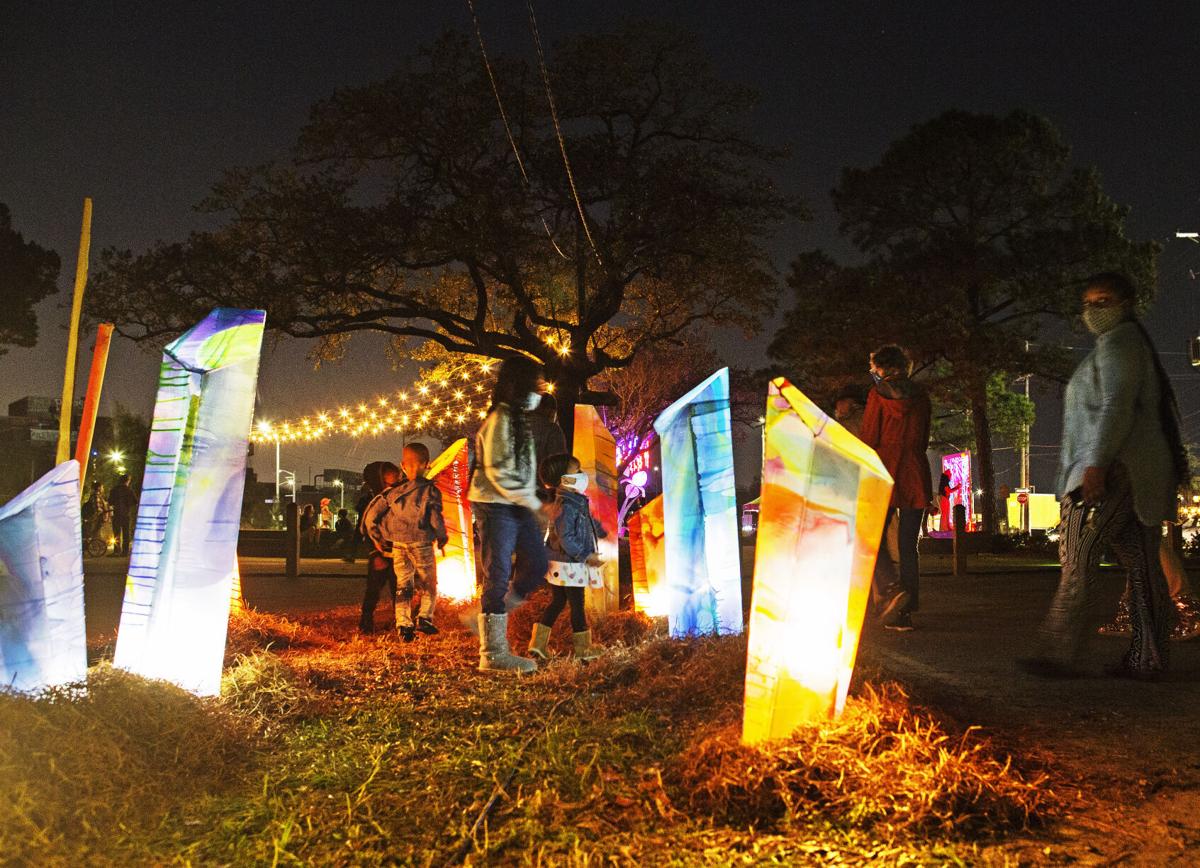 For Mid-City resident John Coyle, the Lafitte Greenway's growth over the past five years has paralleled his own development as an architect. He stumbled across the abandoned railway corridor while riding his bike in 2013 and made it the subject of his thesis project. In 2015, when the 2.6-mile Lafitte Greenway opened as an urban linear park and bike trail, Coyle started volunteering as a Greenway ambassador. This year, Coyle became project manager for Greenway Plaza, a pedestrian plaza just opened on the Lafitte Greenway.
"It has been a labor of love for my team and I," said Coyle, who provided design-build services via his firm, Urbanscapes Design + Build.
Greenway Plaza (3200 Lafitte Ave.) occupies the driveway of a former brake tag inspection station in Mid-City. That brake tag station underwent a renovation funded by $1.1 million from FEMA and $545,000 from bonds and opened in March as a public recreational facility.
Its former driveway, where cars lined up to be inspected, remained relatively plain until the COVID pandemic brought citywide lockdowns. Then, Friends of Lafitte Greenway, the New Orleans Recreation Development Commission and the Arts Council New Orleans conceived of a $100,000 art installation project as a way to meet the public's need for outdoor gathering places during the era of social distancing.
"(The Greenway Plaza) is a rapid-build project that happened during COVID-19, responding to the need for more outdoor space for people to experience the city and enjoy the outdoors," said Sophie Vorhoff, director of Friends of Lafitte Greenway.
Once a drab asphalt strip, the former brake station driveway now features two pieces of public art: a 17-foot glowing iris bouquet by William Nemitoff called "Iris of Memory" and colorful ground murals by Brandon Surtain. Native plants, bike racks, benches and a stage invite gatherings, and the plaza will host the Mid-City Crescent City Farmers Market from 3 p.m. to 7 p.m. on Thursdays in December.
"We're doing place-making with this site — which means taking over this space that has been disused and sprucing it up with public amenities," said Friends of Lafitte Greenway board member Kevin Centanni.
"In Treme and Lafitte, the Greenway's Great Lawn has turned into a hub of activity and programming — you see people playing soccer and having picnics," said Vorhoff. "This will be another space for that sort of flexible programming right in the heart of Mid-City."
To celebrate the Greenway Plaza's installation and the Lafitte Greenway's five-year anniversary, Friends, NORD and the Arts Council New Orleans' LUNA Fete will throw a free, outdoor, light-based art exhibit called Supernova. It takes place from 5 p.m. to 9 p.m. Dec. 9-Dec. 20 at the plaza and brake tag pavilion building and features 10 glowing art installations. The celebration combines elements of LUNA Fete, which will scatter installations citywide this year instead of concentrating them at Duncan Plaza, and the Greenway Soiree fundraiser, which was canceled due to the pandemic.
"(Supernova) is a free exhibit, but we're encouraging people to make donations to Lafitte Greenway in exchange for perks at local businesses," Vorhoff said. "This is an opportunity for us to promote foot traffic and get people to go out and spend money on local businesses that have been amazing partners for the Greenway."
Jeff Schwartz, director of economic development for the City of New Orleans, says the initial cost for developing the Lafitte Greenway was just under $12 million. That investment spurred both public and private projects. These include the $20 million FEMA-funded Hagan-Lafitte Drainage Upgrade and Green Infrastructure project, and the $10 million ReFresh project, a healthy foods hub that brought Whole Foods and Liberty's Kitchen to the Greenway. New business ventures, outdoor gyms, landscaping, bioswales and housing developments line the linear park, which Vorhoff said saw more use during the pandemic than ever before.
"The return on investment is many times that public investment," Schwartz said. "When you think of the property taxes and community impact of that area, the return on investment over the long term of those public dollars is massive."
Coyle bought his Mid-City home in 2016, in large part because it sat seven blocks from the Greenway. He uses the Greenway daily, for biking, socializing and recreation.
"It's central to everywhere that I need to go," Coyle said.
The linear park skewers four historic New Orleans neighborhoods — the French Quarter, Treme, Mid-City and Bayou St. John — shish kebab style. For cyclists and pedestrians, it offers a route through the city that's efficient, protected from vehicular traffic, and beautiful.
"(The Lafitte Greenway) is an amazing transportation corridor, but also a gathering spot for a lot of people from different backgrounds and neighborhoods," Centanni said. "I can tell the story of New Orleans by taking someone down the Greenway, from the French Quarter to Mid-City."