BOOKS, DOCUMENTARIES, RECORDS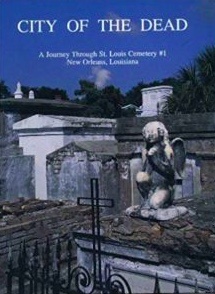 CITY OF THE DEAD
by Robert Florence
A profile of St. Louis Cemetery #1, the oldest and most significant cemetery in New Orleans, Louisiana.
To journey through this city of the dead is to experience the city of New Orleans, past, present and future.
6×9″ paperback, 79 pages
63 black & white photographs.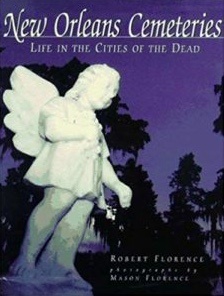 NEW ORLEANS CEMETERIES: LIFE IN THE CITIES OF THE DEAD
by Robert Florence
From the edge of the French Quarter to the heart of the bayou, New Orleans Cemeteries is a journey through the Crescent City as seen through her phenomenal cemeteries.
9×11″ hardcover, 211 pages
157 color photographs
33 black & white
$29.95 + 9% sales tax ($2.70)
+ $4.00 shipping = $36.65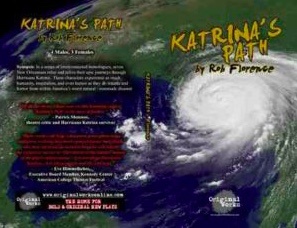 KATRINA'S PATH
by Robert Florence
Original Works Publishing of Los Angeles, CA, has released the published version of 'Katrina's Path' by Rob Florence which was first produced at the University of New Orleans in October 2007 and was performed at the Kennedy Center American College Theater Festival Region VI in March 2008. 'Katrina's Path' is the first Hurricane Katrina play to be published. 
Send check or money order payable to Historic Tours/Batture Press, Inc. Batture Press P.O. Box 19381 New Orleans, Louisiana 70179-0381
"Of all the shows I have seen on this haunting subject, Katrina's Path is the most definitive."
"... intense, funny, scary, and elegiac.... the play deserves further productions and audiences."
"I assigned 'Katrina's Path' to my upper-division 'Multicultural Perspectives in American Theatre' course last fall. In fact, after studying plays by August Wilson, Velina Hasu Houston, Luis Valdez, and Spiderwoman Theater, I concluded the semester with 'Katrina's Path' to reinforce that theatre is not fiction because it exists within and often shapes our own realities."
"Katrina's Path' is a valuable piece of art that will show future generations the moving stories of destruction, death, diaspora, friendship, and humanity in New Orleans."
"These stories will help subsequent generations learn and grow, evolving into more compassionate individuals who may not avoid devastation but who will inherit the culture to survive it. This attests to the timeless nature of the play's subject matter - it is not about Hurricane Katrina... it is about people and life and hope."
WHAT THE CRITICS HAVE TO SAY...
"New Orleans Cemeteries: Life in the Cities of the Dead, by Robert Florence with photographs by Mason Florence (Batture Press, $29.95), and ELYSIUM: A GATHERING OF SOULS, photographs by Sandra Russell Clark, foreword by Andrei Codrescu and introduction by Patricia Brady (LSU Press, $39.95). No doubt this effusion of coffee-table books about the above-ground cemeteries of New Orleans can be traced to the popularity of Anne Rice's creepy novels, but one need only have visited that most beguiling of American locales to have an interest in these haunting cities-as they are commonly, and properly known-of the dead. As between these two books, the choice is easy. The photos in the LSU Press book, though appealing for the air of mystery that black-and-white lends are gauzy and innovating, and the text is scanty. By contrast, the pictures in the Batture Press book are in vivid, revealing color, while the text was thorough and informative."
"The history of New Orleans cemeteries is as rich and enticing as a plate of crayfish etouffee. And New Orleans writer Robert Florence-together with his brother Mason Florence, a Japan-based photojournalist-provides a sumptuous sampling of it with "New Orleans Cemeteries: Life in the Cities of the Dead." "With literary-minded text (plenty of references to Mark Twain, Tennessee Williams, and Walker Percy) and gorgeously haunting photos, the Florence brothers put to good use their considerable time spend inside the gates of 13 New Orleans area monuments to the dead, the majority of which are above-ground. If what you know about the Crescent City's labyrinthine graveyards is confined to that bad-trip scene in "Easy Rider"-or any of Anne Rice's over-the-top tomes-read this book. It's a real headstone rubber."
"Florence captures the real uniqueness of life here...Florence's eloquent depiction of the cemeteries show that our culture remains vital. People still flock here, and its not because they expect the Dew Drop Inn, or Jelly Roll Morton playing in some little hole in the wall until the sun comes up. They come because of where we are now."
"Just as Tennessee Williams' legendary heroine Blanche duBois followed the advice of strangers who suggested she 'take a streetcar named Desire, and then transfer to one called Cemeteries,' those who read New Orleans Cemeteries will be taken on a fascinating ride through places where memories of loved ones are still very much alive."
"Like Virgil leading Dante through the levels of Purgatory, Robert Florence reveals the historical, architectural, cultural and spiritual layers of New Orleans's above-ground and multiple burial sites that are unique in America...As the dust jacket says, this book places New Orleans cemeteries in a much larger context. As Dante, as he made his way "back into the bright world (and saw) some of those things of beauty Heaven bears," so we exit New Orleans Cemeteries better understanding the spiritual bonds between the living and the dead. And we see all the cemeteries in a new light."
"New Orleans Cemeteries: Life in the Cities of the Dead by Robert and Mason Florence is a timely Halloween treat. One doesn't need a sense of the macabre to appreciate the beauty of the cemeteries that constitute one of the Big Easy's distinguishing features."
"New Orleans Cemeteries: Life in the Cities of the Dead by brothers Robert and Mason Florence is a lavish volume overflowing with wonderful photographs of thirteen of the city's wonderful graveyards, as well as historical accounts of each site. Painstakingly assembled, this book is a must for anyone fascinated with this city's aboveground tombs. Yes, Anne Rice does pop up in the chapter on Lafayette Cemetery #1."