Soul Queen of New Orleans Irma Thomas celebrates her 80th birthday this week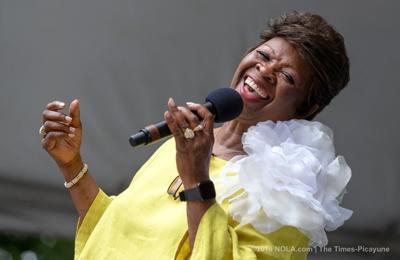 This week we wish a very happy 80th birthday to the Soul Queen of New Orleans, Irma Thomas. Born Irma Lee on Feb. 18, 1941 in Ponchatoula, she moved to New Orleans with her parents as a child. That's also when she began singing with her church choir.
By age 19, she had been married twice and given birth to four children. Thomas was working as a waitress when bandleader and singer Tommy Ridgley helped her land her first record in 1959: "(You Can Have My Husband, But Please) Don't Mess with My Man."
Soon after, she joined the Minit Records label and teamed with songwriter Allen Toussaint, who wrote many of her best-known songs, including "It's Raining" and "Ruler of My Heart." In early 1964, Thomas recorded "Time is On My Side." The Rolling Stones recorded the song later that same year and it became the band's first top ten U.S. hit. In 1964, Thomas also wrote and recorded "Wish Someone Would Care," her biggest national hit.
In the 1970s, Thomas moved to Los Angeles for a few years but soon returned home. She's played every New Orleans Jazz and Heritage Festival since 1974 and at Audubon Zoo every Mother's Day since 1983. Until Hurricane Katrina, she and her husband and manager, Emile Jackson, owned and operated The Lion's Den nightclub on Gravier Street.
A member of the Louisiana Music Hall of Fame and Blues Hall of Fame, Thomas was nominated for two Grammys before winning the award in 2007 for her album, "After the Rain."